---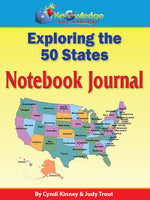 This is NOT a Lapbook! Are you ready to have some fun while studying the 50 states with your entire family? Specific instructions are given for younger and older students so that it can be used with ALL age/grade levels. 266 pages included!
This Notebook Journal will briefly cover facts about each of the 50 states. There are 4 pages for each state (more suggested for the older student). The first 2 pages cover state facts and several symbols. All information needed to complete these 2 pages is provided in the back of this Notebook Journal. Pages 3 and 4 will require additional research. Links to use for this research are also provided in the back of this Notebook Journal.
There is also a large United States map where the student will document geographical features. At the back are crossword puzzles and word searches to help the student in learning the states and capitals. If you would like a more in depth study of any one of the 50 states, check out our State History Lapbooks and Lapbook Journals. We have one for each state and age range. Each comes with a complete and comprehensive Study Guide.
Download a free sample of this product here: VIEW SAMPLE FILE
***NOTE: THIS PRODUCT IS AVAILABLE IN EBOOK FORMAT ONLY! TO PURCHASE THIS PRODUCT IN A PHYSICAL FORMAT (CD or PRINT) PLEASE VISIT ONE OF OUR TRUSTED VENDORS: